Butternut Squash 'Carpaccio' Salad
This salad is an amazing blend of fall flavors and only requires  a few ingredients – making it the perfect salad to throw together when you're short on time. You can roast the butternut squash in advance, or just throw it into the microwave for a few minutes to soften it.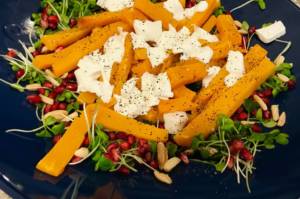 What's great about this dish is that you can substitute pretty much any ingredient and get the same results. If you're watching your sodium, you can use Syrian cheese, which is much less salty than feta cheese. Don't have butternut squash? Use pumpkin or sweet potato. Sub craisins for pomegranates in a pinch. See the recipe for this delicious butternut squash salad below.
Serves 4
Butternut Squash 'Carpaccio' Salad
Salad Ingredients:
1/2 cup Daikon Cress or other microgreens
1.5 tablespoons pomegranate seeds
1 tablespoon cup toasted almonds
1/2 roasted butternut squash, sliced
3 oz Syrian cheese
Dressing Ingredients:
1/4 cup olive oile
Juice of 1 lemon
1/2 tsp salt
1/4 tsp pepper
Have you tried this salad yet? Let us know how you liked it in the comments below!