Nutritious Greek Bowl
The best meals incorporate a combination of nutrients from an array of different sources. This recipe combines multiple sources of protein with fresh fruits and vegetables for a deliciously balanced meal! To make this recipe vegetarian or kosher, simply substitute grilled portobello mushroom for the steak, and you'll still have plenty of protein in this dish.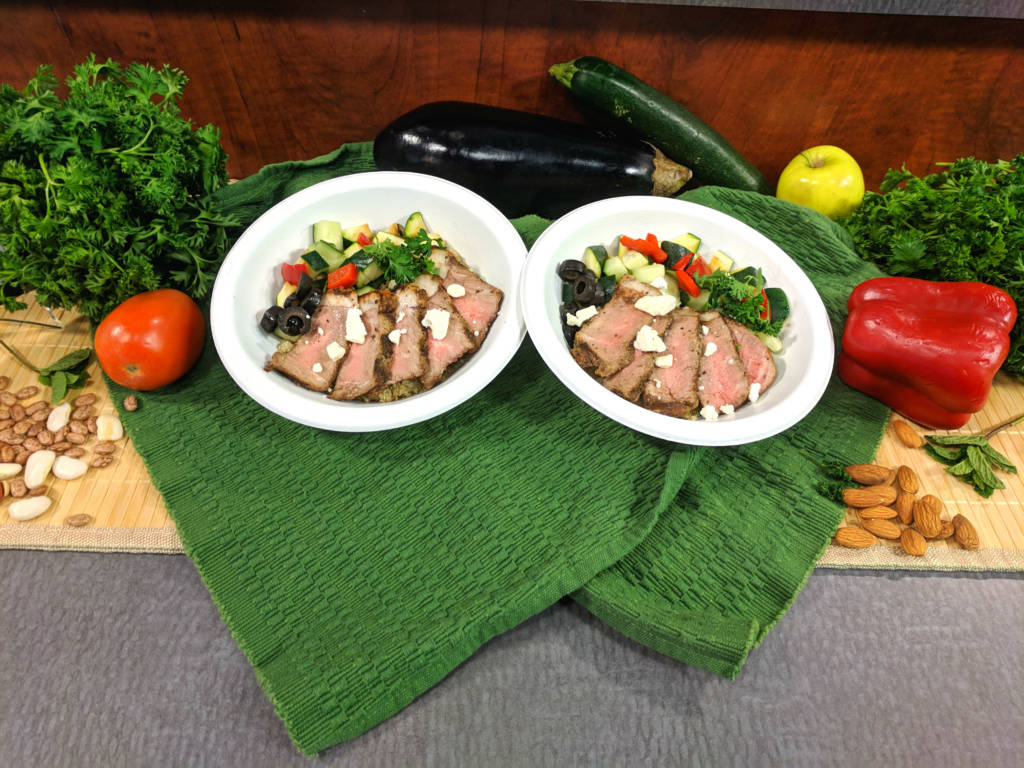 Greek Bowl Recipe 
Ingredients
2 beef strip steak boneless, cut 1 inch thick (about 8 ounces each)
2 medium zucchini, cut lengthwise in half
2 medium red bell peppers, cut into quarters
1/2 cup non-fat Greek yogurt
1/4 cup diced cucumber
1/4 cup lemon juice, divided
1/4 teaspoon salt
2 cups quinoa
2 tablespoons chopped fresh parsley
1/2 cup reduced fat feta cheese
1/3 cup sliced olives
Preparation
Place steaks on grill over medium, ash-covered coals. Grill, covered, 11-14 minutes (over medium heat on preheated gas grill, 11 to 15 minutes) for medium rare (145F) to medium (160F) doneness, turning occasionally.
Place zucchini and peppers on the grill.  Grill zucchini covered for 7 to 10 minutes and peppers covered for 11 to 14 minutes. Remove roast when meat thermometer registers 140°F for medium rare; 150°F for medium. Transfer roast to carving board; tent loosely with aluminum foil. Let stand 15 to 20 minutes. (Temperature will continue to rise about 5°-10°F to reach 145°F for medium rare; 160°F for medium.)
While steaks and vegetables are cooking, combine Greek yogurt, cucumber, 1 tablespoon lemon juice, and salt to make tzatziki sauce. Dress quinoa with the remaining lemon juice and parsley.  Divide quinoa equally among four bowls.
Slice steaks into thin slices.  Chop zucchini and peppers into bite-sized pieces.  Divide steak and vegetables evenly over the quinoa in each of the bowls. Garnish with olives and feta and finish with a dollop of tzatziki. Season with salt and pepper as desired.