Healthy Lifestyle Gift Guide
Looking for the perfect gift for the health-conscious individual in your life? We've put together our 2020 Healthy Lifestyle Gift Guide, with some great health and wellness tools that will make excellent holiday gifts. If you have someone on your list constantly looking to improve their health and wellbeing, you'll find the perfect gift on this list!
Best Healthy Gifts – Cooking and Healthy Eating
The Flavor Bible is more than a cookbook. In fact, it could be described as the anti-cookbook. You won't find recipes in here. Rather, The Flavor Bible explains how flavors meld together, helping educate would-be chefs on how to combine ingredients to produce the greatest flavor. This book works great as a reference, with a breakdown of specific foods and all the flavors that best complement them, as well as which to avoid.
Shopping for a vegetarian in your life? Try The Vegetarian Flavor Bible.
Another great cookbook, The Food Lab is an excellent choice for any skill level. It not only provides recipes but also explains the science behind how ingredients work together, how different cooking methods affect the final product, and how to combine all the elements to create a delicious meal. This cookbook will help you understand how to create the perfect dish, even when improvising!
Have someone in your life who'd love to eat healthier meals but just doesn't have the time? Get them a gift card to Flavorly, formerly known as Healthy Gourmet! Flavorly makes healthy eating easy, by delivering fresh, ready-to-eat meals for every lifestyle and tastebud, like keto, paleo, low-calorie, dairy-free, and more.

If you're looking for a gift to impress, this best-selling top of the line knife set is just the thing. WÜSTHOF knives are forged from a single piece of an exclusive high-carbon stainless steel. The set includes a 3″ Flat Cut Paring Knife, 3 1/2″ Paring Knife, 6″ Utility Knife, 8″ Carving Knife, 8″ Bread Knife, 8″ Cook's Knife, 9″ Steel, Come-Apart Kitchen Shears and 13-Slot Block.
Best Healthy Gifts – Fitness
This planner has everything your fitness enthusiast needs to log workouts, nutrition, water intake and more! Record goals and track progress in this handy little notebook.
The HIIT Game makes workouts fun! Play with a group, or by yourself. With two decks of exercise cards, you'll never get bored. Don't know how to perform an exercise, just scan the code on the card and watch the video.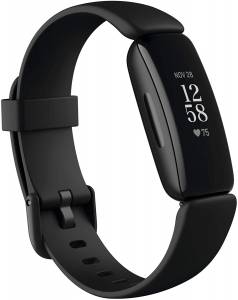 You can't go wrong with a Fitbit for the fitness junkie in your life. The Fitbit makes it easy to see how active you are and adjust accordingly. Monitor the number of steps you take, your sleep score, your heart rate, and calories burned, track your workouts, and challenge your friends to see who can get more steps in the Fitbit app. Plus it comes with a one-year free trial to Fitbit Premium so you can get deeper insights plus access to workouts and coaching.
Know someone who keeps filling up their water bottle? Or maybe someone who could stand to drink a bit more water? Get them this giant 1-gallon water bottle. With encouraging goal marks, this water bottle makes drinking water easy and fun!
Best Healthy Gifts – Self Help
For the self-help aficionado on your list, you can't do better than this book. James Clear provides clear (no pun intended), actionable steps to creating healthy, beneficial habits that lead to success.

Mental health is a core component of our overall health. Stress, anxiety, and depression can put a strain on our bodies and affect our physical health. Motivational journals like this one help us focus on the things that bring joy and happiness to our lives.
This post contains affiliate links.