Healthy Sweet & Savory Cottage Cheese Pancakes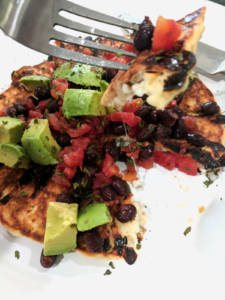 Nothing beats a delicious breakfast of freshly made, light, fluffy pancakes. Unfortunately though, pancakes are not exactly the healthiest breakfast option out there. To make this breakfast staple a bit healthier, we bumped up the protein content by adding low-fat cottage cheese, eliminated the sugar, and curbed the carbs by using only 1/3 cup of flour – and the results were delicious! Healthy pancakes are within reach!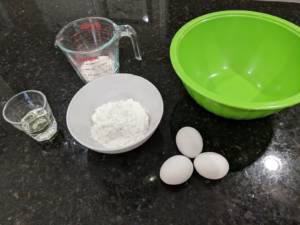 We started off with a cup of cottage cheese (25 grams of protein!), 1/3 cup all-purpose flour, 2 tablespoons vegetable oil, 3 eggs, and a bit more oil to brush on the pan. After combining the ingredients, the batter looked something like this: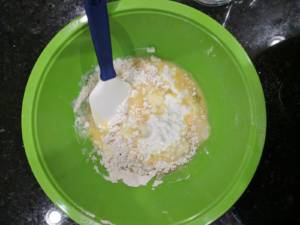 I should mention that there's no need for the kids to see exactly what's going into these pancakes. What they don't know won't hurt them, and they'll love the pancakes 🙂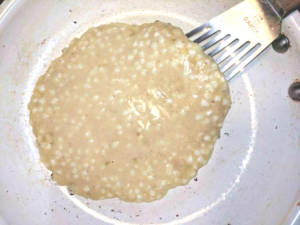 We spooned the batter into a pan brushed with oil and soon we had delicious looking, fluffy pancakes. Now, these pancakes are delicious on their own, but the real magic happens with the toppings. We split the pancakes into two categories: sweet and savory.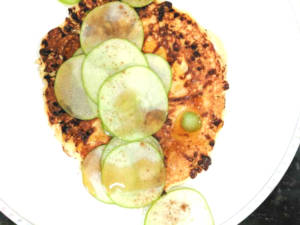 We topped the sweet pancakes with thinly sliced apples, drizzled with real maple syrup, and topped with pumpkin pie spice. Yum! This was absolutely delicious and the only sugar was in the small drizzle of maple syrup!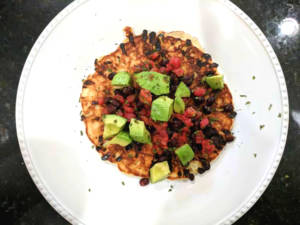 We upped the protein on the savory version even more, adding a fresh black bean salsa topping! Check out the full recipe below:
Healthy Cottage Cheese Pancakes
Ingredients:
1 cup low fat cottage cheese
1/3 cup all-purpose flour
2 tablespoons vegetable oil (plus a little more to brush on the pan)
3 eggs, lightly beaten
Directions:
Mix all ingredients together in a large bowl.
Brush a pan with oil and heat over medium heat. Spoon the batter onto the pan in 1/3 cup increments and cook until you see bubbles appear on the pancake. Flip with a spatula and cook until browned.
Sweet Topping
Ingredients:
1/4 green apple, sliced thinly (I recommend you use a mandolin)
1 oz real maple syrup
Pinch of pumpkin pie spice
Directions
Spread apple slices over pancakes.
Drizzle with maple syrup.
Sprinkle with pumpkin pie spice.
Savory Topping:
Ingredients:
1/4 can black beans, rinsed and drained<
1/2 avocado, diced
1/4 cup of tomatoes, diced
1/4 cup fresh cilantro, chopped
Juice of 1/2 lime
Black pepper to taste
Directions:
Combine black beans, avocado and tomatoes.
Squeeze lime juice over mixture.
Mix in the cilantro and season with black pepper to taste.